Harry and Pat Knickerbocker recognition for their Hospitality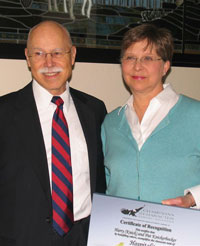 It was easy for Joan Krauss to recognize her Eagle Crest subdivision neighbors of 12 years as a couple that embodied what "being a good neighbor" really meant. In looking at the character trait of "Hospitality," it was easy for her to also see how Harry "Knick" and Pat Knickerbocker exemplify each and every quality: They "cheerfully share food, shelter, and conversation to benefit others" without recognition for themselves.
Several years ago, while recovering from a life-threatening blood clot that required immediate hospitalization and after-care, it was comforting for Joan Krauss to know that the Knickerbockers were "ever-present" throughout her ordeal!
In another medical emergency, Krauss was a direct admit to the hospital due to advanced pneumonia. It was Sunday afternoon, and in tears she called Pat from Edmond Mercy After Hours. Pat immediately dropped her afternoon plans at church, picked Krauss up, and drove her to Edmond Medical Center. Pat even stayed to make sure Krauss was settled in her hospital room before leaving. Later, both Knick and Pat made sure Krauss' son was safe, well-cared for with meals and organized rides for him to school. As a single parent, it was also comforting for Krauss, all these times, knowing that care was also provided for her young son.
Then again, Christmas 2009, while recovering from eye surgery, Krauss was homebound due to the weather. "On Christmas Day, Knick and his daughter, Katherine, trudged through 14 inches of snow to reach my house, 1/2 block away," said Krauss. "They delivered a wonderful Christmas meal! What a special memory! They continued to provide meals and care until the weather improved, and I could drive. They were truly my Christmas Angels! Once again they unselfishly came to my aid in time of need."
Each time, Krauss couldn't have done it alone. "They provided home-cooked meals, checked on my medical condition," said Krauss, "and as Eucharistic Ministers at St. John's Catholic Church, they brought communion to me; helping in whatever way necessary. I truly am indebted to them for 'going above and beyond,'" Krauss added, "in exemplifying the character trait of 'Hospitality.'"
"They live out their Christian faith each and every day by caring and serving others in whatever way they can," added Krauss. "They do this unconditionally and without regard for themselves. Both are involved in caring ministries and careers, benefitting others. Many in the Edmond community have benefitted from Knick Knickerbocker's help and service as their insurance agent. Many nursing students at UCO have benefitted from Pat's nursing education expertise and patient 'hospital-ity' care."
It is with much pleasure, gratitude, and admiration that the Character Council of Edmond and the City of Edmond honor Knick and Pat Knickerbocker for the character trait of "Hospitality." They truly live this trait in their daily lives and serve as outstanding role models.
---
«
More Champions of Character