John O'Dell, Champion of Character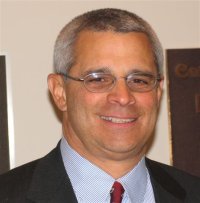 The Character Council of Edmond congratulates John O'Dell for being selected as a "Champion of Character," representing the character trait of faith.
The council is a grassroots, non-profit, organization committed to creating a citywide initiative to build Edmond into a "City of Character." The group believes that the character of a nation can only be strengthened one person at a time, one community at a time. Toward that end the Character Council of Edmond seeks to recognize residents who demonstrate character, as witnessed by those who have been affected and influenced.
O'Dell exemplified the character trait of faith (vs. presumption) by showing confidence that actions rooted in good character will yield the best outcome, even when I you cannot see how. The trait is exemplified by how you rise above obstacles by living according to what you know is true; how you inspire others and by how you preserve and stick to your convictions.
John O'Dell exemplifies his "faith" each and everyday whether as State Director of the Oklahoma Fellowship of Christian Athletes, as a husband, father and grandfather in his family, or as a supporter of the Edmond schools and community, wrote Kay Oswald, who, along with the entire 13-member FCA staff, nominated O'Dell.
John believes that "each person needs to be armed with faith in God to face the trials that we will be presented in their lives and to walk out that faith, that others may see the victory." He began his journey of faith 28 years ago by acknowledging his desire to be apart of God's ministry and to take to others the importance of Faith in their lives through the FCA. He has served this ministry in many roles including Regional and now State Director.
However, it's not only what he does in the public eye, but more importantly what he does each day when he goes home that Jeremy Tims admires most. "He spends time with his family and calls his son who is away at college to see how the day went. Because I never had a DAD, I am able to see John demonstrate this trait to his family and it gives me the instruction and confidence I need to one day begin my family," wrote Tims. "It has been a blessing to work for FCA and to work for a man who's not only my boss, but a friend. John O'Dell is a great example of character."
"If given only four words to describe John O'Dell," said Oswald, "they would be 'Faith working through love.' (Gal.5:6b) His greatest legacy will be as a Christian influence to young and old alike, in the school setting with students, in the office of aCEO of a company, in the athletic setting with coaches or in church with friends."
John O'Dell, thank you for representing Edmond as a "Champion of Character."
---
«
More Champions of Character