Judy Farley honored as Champion of Character, for "availability."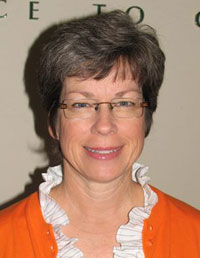 Like those charts on the back of cereal boxes that list the minimum daily requirements, many people who are older, or living with some disability, wouldn't experience the minimum daily requirements of help, hope and happiness unless there were someone there who was available.
During the February 27, 2012 Edmond City Council meeting, the City and the Character Council of Edmond recognized Edmond resident Judy Farley as a "Champion of Character" for exemplifying "availability" – making ones own schedule and priorities secondary to the wishes of those we serve; nominated by her husband James Farley, for Judy's "unselfish manner" in which she exemplifies the character trait.
Judy's parents moved to Edmond from their Hobart, OK., farm three and a half years ago as their health declined.
"Judy saw them everyday especially the past 6 months," wrote James Farley, "after her father broke his foot and spent the past 6 months in a nursing home, visiting him every day in the nursing home. She also helped her mother transition to her dad being in the home and began helping her with day-to-day activities."
Judy's mother had a massive stroke and died in November. Her father died in January.
"As I reflect on the closing days of their lives, Judy's 'availability' and unselfishness enhanced their lives immeasurably. Her siblings have told her repeatedly what a great asset she was to her parents.
"I feel the same way about the unselfish manner in which she helps my mother," wrote her husband. "Judy made herself 'available' to her mother-in-law for a variety of activities. Since forced to quit driving over a year ago, Judy has been the primary person responsible for taking her to appointments, shopping for her, and just stopping by to visit frequently.
"Our parents have enjoyed wonderful lives and thanks to Judy are/were able to continue that during a phase of life where many people no longer have any one to assist them in a kind and loving manner," wrote James Farley
Through her child-rearing years for her three children, Judy was always 'available', whether it was chairing their church's vacation bible school or chairing the Fall Fun Fest at Northern Hills Elementary School. Judy was 'available' to her children's sports teams through the years, doing whatever tasks were needed. Judy has always delighted in performing the behind-the-scenes jobs, such as cooking on Wednesday evenings at church, giving after-school rides home to children whose parents were unable to do so, or helping host parties that were sold at the PTO auction to raise money for Northern Hills. She continued to be 'available' as their children grew older by hosting weekly lunches for her children and their friends during their senior year of high school. She has hosted numerous events in her home for every group from the Northern Hills safety patrol parties to a Sequoyah end-of-the-year track party that attracted over 80 kids. She has always made her home 'available' for pre-party photo sessions for other students and their families. She makes herself 'available' to older Edmond residents by cooking monthly for Edmond Mobile Meals. This all took place while also making herself 'available' to her high school and college aged children and her husband.
In summary, James Farley concluded, "Judy has spent her life making herself 'available' to others. This was a characteristic that she learned from watching her parents live their lives the same way—they both always delighted in making themselves available to help people who were less fortunate that they were."
---
«
More Champions of Character