Karen Stillwell, Champion of Character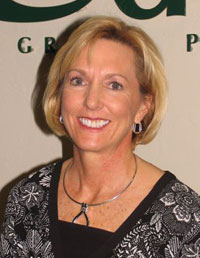 The character trait of patience might be defined as "accepting a difficult situation without giving a deadline to remove it," which is what prompted Oklahoma Christian Middle School's Kathy Essmiller to nominate Karen Stillwell as a Champion of Character.
"Karen is our school secretary, without fail, graciously, kindly and with love manages the Oklahoma Christian Middle School," wrote Essmiller. "Under her care, the Middle School office is a safe haven in which students and faculty can receive help and guidance. She helps the administration and student bodies navigate innumerable challenging situations, and is never rattled."
The benefit of Stillwell's patience, added Essmiller, is that, "She helps create an atmosphere in which the fruit of the spirit flourish!"
After living in Florida for 26 years, the Stillwell family moved to Edmond in August of 2006, when her husband Matt Stillwell was appointed the Director of the Edmond Central Communications and Emergency Management. Both Karen and Matt agree, they are glad with the change and love living in Oklahoma.
"We had our boys in a Christian school in Florida so it was important for us to continue with that," said Stillwell. "We feel so blessed to have both of our boys attend Oklahoma Christian School (OCS). Christopher our oldest was here for his senior year only and Jon has attended since 8th grade and now is a junior."
Karen started working at OCS the following summer of August 2007. "I am the middle school administrative assistant," said Stillwell, "which means I deal with 260 5th-8th grade students and 20 teachers. I do say that I love every minute of my job, but at times it can be very crazy."
Karen's biggest influence toward her patience nature, she said, would be her mom and grandfather.
"They both were very patient people and always demonstrated that character. I also think that being a Christian and trying to live a Christ like life has a big part of my patience. I try to remain calm and do so without complaining. I really try to demonstrate a slow to be angry attitude (Psalm 86:15).
"Regarding her patience at home," according to her husband Matt, "she's been married to me for more than 25 years which I'm sure requires the 'patience of a Saint!'"
"Seriously," he adds, "if you look at the character of our two sons, Christopher and Jonathan, you will see the product of a mother's great love and patience. Karen has demonstrated unconditional love for our children; no predicament has been too much for her patience with them. Her patience has been demonstrated in many circumstances, particularly in some of the significant decisions we made as a couple in how we were going to raise our children."
"It is an added pleasure," said Character president Jim Hulsey, "that we were able to honor Karen. Each Edmond school, either public or private, participates to some degree in character education. What an added plus it is that we find such a wonderful good character mentor among the non-teaching population at our schools."
---
«
More Champions of Character