KC Williams Honored for the Character Trait of "Dependability"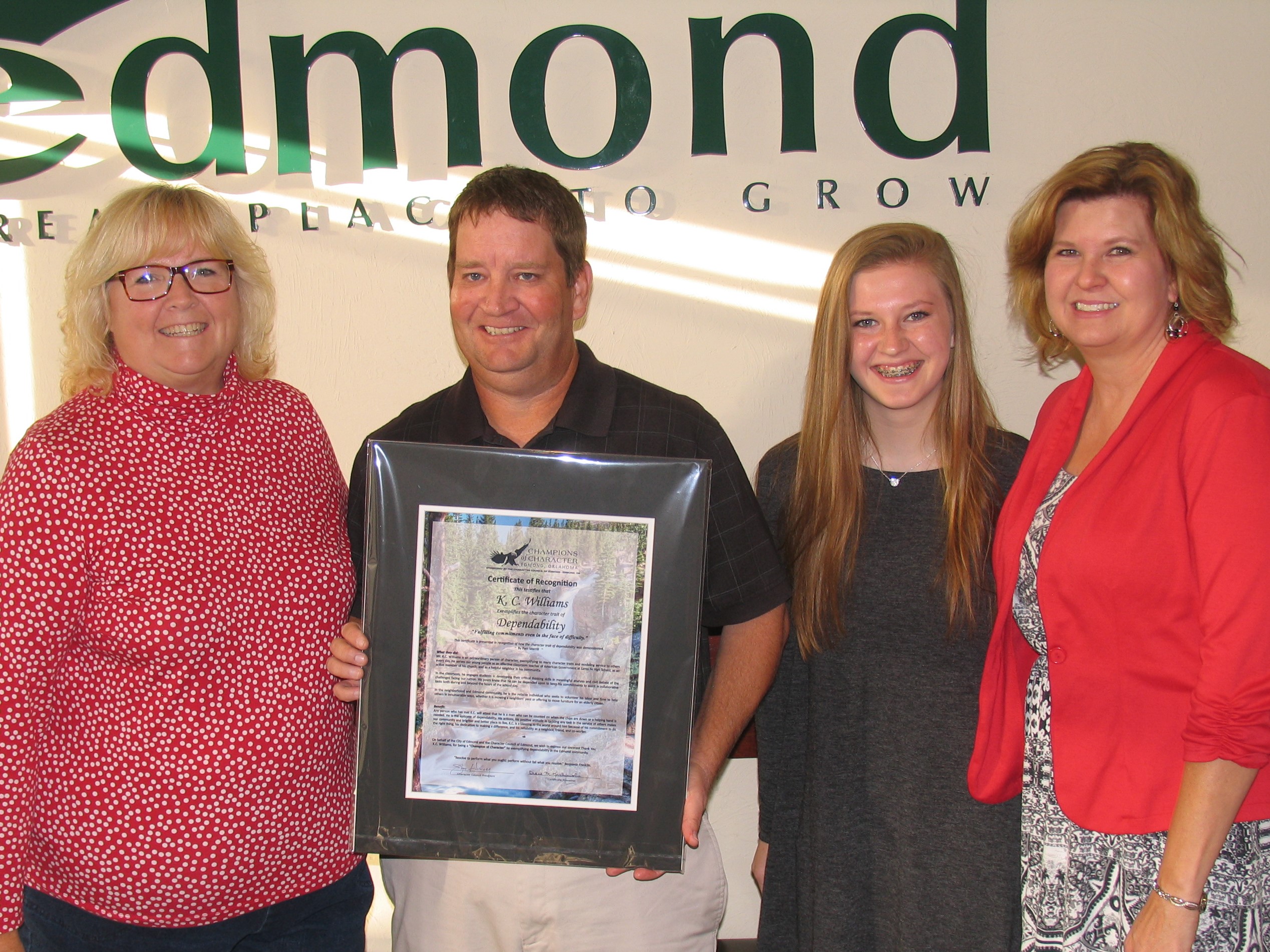 Pam Merrill with KC Williams, daughter Kayla and wife Kathy Williams.
K.C. Williams was honored at October's Edmond City Council meeting as Champion of Character for Dependability, after a lifelong journey seeking to be a trustworthy man.
Friend and colleague, Pam Merrill, speaks of William's reputation for dependability, in her nomination of Williams for Champion of Character, saying, "K.C. is a blessing to the world around him because of his commitment to do the right thing, his dedication to making a difference, and his reliability as a neighbor, friend, and co-worker."
Williams says, "I truly believe it is our civic duty to give to others in need even if it means sacrificing a bit of our time and resources."
"In the neighborhood and Edmond community, he is the reliable individual who seeks to volunteer his labor and time to help others in innumerable ways," says Merrill, "whether it is mowing a neighbors' yard or offering to move furniture for an elderly citizen."
At work, she says, "His peers know that he can be depended upon to keep his commitments to assist in collaborative tasks both during and beyond the hours of the school day."
It's not always easy to keep commitments. Williams recalls the first time he took the state exam to obtain his teaching certificate. He failed. That experience left him with a determination to give up on a teaching career. However, fear of disappointing his parents changed his perspective. So, he pushed forward and received his certification. Looking back, he sees his twenty-six-year teaching career as a great reward and blessing.
Through the years, he has found ways to help motivate himself during difficult times. Williams says, "I have a couple of sayings I use for personal reflection. 'It's a great day to be alive,' or 'adapt, adjust and overcome.'" He also finds strength from Psalm 121, one of his favorite go-to passages from the Bible.
Williams says, "Hopefully I can look back on my life and say I had a positive impact on people through my dependability, reliability, and the ability to do the right thing when it is difficult."
Williams teaches American Government at Edmond Santa Fe High School. His wife, Kathy, teaches at Summit Middle School in Edmond. They both received their Bachelor's degree in Education at Oklahoma Christian. Their son, Kody, is currently a freshman at their alma mater and their daughter, Kayla, is a junior at Edmond Santa Fe.
On behalf of the City of Edmond and the Character Council of Edmond, K.C. Williams was honored before the City Council as a Champion of Character for exemplifying the character trait of dependability (Fulfilling commitments even in the face of difficulty).
The Character Council is a grassroots, nonprofit organization committed to creating a citywide initiative to build Edmond into a "Community of Character." The group believes that the character of a nation can only be strengthened one person at a time, one community at a time. Toward that end, the Character Council of Edmond seeks to recognize residents who demonstrate character, as witnessed by those who have been affected and influenced.
---
«
More Champions of Character