Larry Tettleton honored as Champion of Character, for "determination."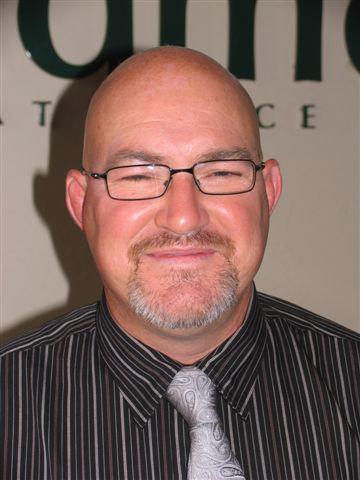 The advances of modern medicine can correct many disabilities brought about by paralysis. Yet sometimes it's an individual's persevering spirit, their determination that brings about success and fulfillment. To many students at Sequoyah Middle School, area coaches and friends, Coach "T" is just such an individual.
Educator and Coach Larry Tettleton, despite being born with some physical disabilities due to having Cerebral Palsy, exemplifies the character trait of "determination;" defined as "purposing to accomplish right goals at the right time, regardless of the opposition," wrote Ann Cather in her nomination of Tettleton as a "Champion of Character."
Tettleton is "… a fabulous wrestling coach and forever the teacher," wrote Cather. "His disabilities do not deter him. He walks with some limitations but carries his own stuff from mat to mat. Sometimes it is a lot of stuff. He shows the teams the moves and demonstrates them … even pushups. After watching him for several years at the middle school, I do believe that he leads by example. Edmond schools hired more than a coach when they hired Larry Tettleton. They hired a person of character."
"My parents would not let me play sports as a child because they were concerned about me breaking my 'good arm or leg,'" wrote Tettleton. "I finally tried my hand at football in middle school but discovered I was too far behind in terminology and technique. My coach, Steve Dunlap, encouraged me to become a manager for the team rather than quit the sport. He was also the wrestling coach and asked me to help him in wrestling as well. I fell in love with the sport and enjoyed helping out." Tettleton continued his managerial duties through High School under Coach Byron Graham, then on to the wrestling program at UCO under Coach David James, who named Tettleton as an assistant coach.
"I learned so much from him and was fortunate enough to be part of the 1992 NCAA division II championship team," wrote Tettleton.
Afterwards, in 1993, Tettleton began coaching with Coach Rick Bollenbach at Edmond North High School, and is still remembered by Bollenbach as being "dependable, loyal, hard working and the king of nicknames … and a great friend."
Then in 1996 Tettleton started teaching and coaching at Sequoyah Middle School.
"There is NEVER a dull moment when Larry is around!" exclaimed Leslie McVay (nicknamed "Sis"), who works side by side in the Sequoyah gym with Tettleton each day.
"He is full of stories that make you wonder how he survived his childhood, but DETERMINED is the perfect word to describe him," wrote McVay. "He's even challenged himself by seeking a profession that challenges him everyday. He's never let anything hold him back from reaching his goal. I am so proud to call him my friend."
Another thing that "stands out" about Tettleton, said Bollenbach "… is watching him teach in his Adaptive Physical Education (APE) class."
"The APE class has students with various mental and physical disabilities and I am just amazed at the energy level he brings into that class each and every day. (Tettleton) has a special relationship with each of his students, and they all love Coach "T," Bollenbach commented.
"My goal (in the beginning) was to let them have fun and not have high expectations," said Tettleton. Until, "One of our former teacher's assistants (Anne Henson), who had special needs children herself, got on to one of the kids once for 'not giving his best effort.' I realized then that special needs kids are much smarter and more able than people think. At that point I started setting goals and expectations for my kids. I set up evaluations for them and even moved some into the regular classroom using minor modifications for them. It is a true blessing to see these kids smile no matter their circumstances and made me stop and realize how BLESSED I am when I see them. The parents and people that work with these (special needs) kids everyday have a HUGE heart and don't receive near what they get. I applaud people like that. To me, these people are our "real" heroes."
Adding laurels, Edmond Public School (EPS) District Director of Athletics, Mike Nunley, contributed, "I have known Larry for some time and not only respect him, but appreciate his passion and dedication to his profession. EPS is blessed to have men of character and conviction working with our young people. Larry Tettleton is a shining star."
"I try my best to instill in EACH … that they can do ANYTHING they set their mind to," commented Tettleton. "My favorite saying is, 'The only place SUCCESS comes before WORK is in the dictionary.'"
The Character Council of Edmond and the City of Edmond are pleased to honor Coach Tettleton as a "Champion of Character" for the character trait of "determination."
---
«
More Champions of Character