Lauren Nelson-Faram, Champion of Character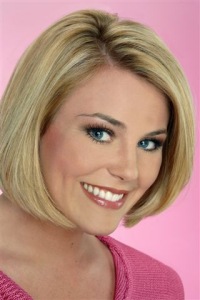 Before a crowd of nearly 250 attendees at the Gaylord Center on the Oklahoma Christian University campus, during the March 4, 2010 "Celebrate Character" Banquet, the Character Council of Edmond recognized Edmond resident and Miss America 2007, Lauren Nelson-Faram, as Champion of Character for her character trait of faith.
The presentation was performed by another Edmond pageant winner, Miss Edmond LibertyFest 2010, Emoly West, who also serves as a board member on the Character Council.
"The character trait of faith," said West, "is defined as 'confidence that actions rooted in good character will yield the best outcome, even when we cannot see how.'"
Perhaps a second character trait that was the most often response from the many people that know Lauren, including banquet MC Robin Marsh, was 'humility,' added Council President Jim Hulsey.
"There are three character traits that balance that of faith," said Hulsey, "Endurance to withstand stress to do your best, Discernment to understand the deeper reasons why things happen, and Humility to acknowledge that achievement results from the investment of others in your life."
But the final decision about which character trait was best suited to honor Lauren was from Sherrell Nelson, Lauren's mother.
"Following Jennifer Berry (another Oklahoma girl) as the 2006 Miss America, Lauren was often asked about her chances," wrote Sherrell Nelson. "She was confident that her hard work and preparation for all areas of the competition would pay off, but it was her faith that it would all turn out like it was supposed to (win, lose, or draw) that kept her grounded, I believe. As a matter of fact, as we prepared to fly out to Las Vegas for the pageant, I spoke to Lauren on the phone just after she finished her interview with the judges. Lauren's response was 'Not my best or worst interview, but whatever happens now, I am at peace with it all!'"
"As her mom," concluded Nelson, "my prayers were answered. I never prayed or even really wished for her to win, but just to leave the pageant with no regrets. It was at this time I knew just how strong Lauren actually was."
" … that precious Miss America – what a tribute to her upbringing. She was so genuine, and what a role model we are blessed to have right here in Edmond, USA," said Dr. Earlene Smith, President of the Character Council of Central Oklahoma, following the banquet.
---
«
More Champions of Character