Mary Ann Coffman named as Champion of Character for her discernment.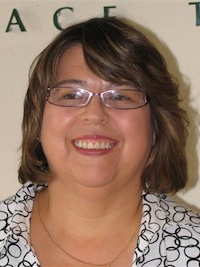 Mary Ann Coffman, a longtime member of St. Mary's Episcopal Church, Edmond, wife and mother of two, walked into Rolling Green Apartments three years ago, with no idea, no goal in mind and no idea where she was going. She just felt lead to get to know the community with no judgment … wanting to make a difference.
"She had the insight to know that just walking in one time and offering to help wasn't going to make the difference that you see in this community today," wrote Anna Brumley in her nomination of Coffman as a Champion of Character for the character trait of discernment.
Discernment can be defined as "understanding the deeper reasons why things happen," said Character Council president, Jim Hulsey. "Understanding deeper reasons takes time and often lots of patience, but mostly it just takes commitment."
"Coffman diligently walked the campus week after week introducing herself to people and inviting them into the tutoring program, to Vacation Bible School and watched to see what their needs as a community are," said Brumley.
Over the last three years, the community has come to trust Coffman as she has worked side by side on a collaborative with other church communities in Edmond (St. Mary's Episcopal Church, First United Methodist Church, First Presbyterian Church, First Christian Church, the Masonic Lodge and the University of Central Oklahoma) and the management and residents of Rolling Greens.
"This question about 'benefit' might better be answered by LeDonna Sloniker, Rolling Green Manager," said Brumley, "but what I have seen over time is that the children are displaying better manners, speaking more respectfully, softening in their demeanor and all around bonding to people." Previous to this, the Rolling Green manager saw only skepticism from residents.
"I have heard from the parents of Rolling Green that they have seen a difference in the children's attitudes too," continued Brumley. "I think there is more a sense of community and Mary Ann has not only met the families but introduced them to their neighbors. Also, this caring has helped support the motivation of management to continue striving for success in their community."
Through this process Coffman has always recognized the deeper purpose of her knocking on management's door that day three years ago. One testimony attributed to a long time resident at Rolling Green, regarding Coffman, was that she "provided a more personalized presence, more heart and more commitment." She loves her neighbors.
On behalf of the Community of Edmond and the City Council, the Character Council of Edmond wishes to extend their appreciation and recognition to Mary Ann Coffman, as a "Champion of Character."
---
«
More Champions of Character