Michael Jaramillo, Champion of Character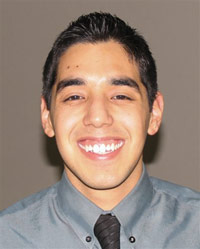 Michael Jaramillo demonstrated the character trait of dependability by fulfilling what he consents to do, even if it meant unexpected sacrifice, wrote Bridget Jaime, who nominated Jaramillo.
While sitting at home relaxing after a long day of work, Jaime received a call from the bank where she worked. "I answered and was surprised to hear Michael on the other end," wrote Jaime, "and, as he always does, he apologized for having to call me at home after work hours, but I reassured him it was fine. He wanted to check with me to see if I knew what my boss had needed for him to do; he had left a message, while Michael was at class, to come see him about something. I tried to tell Michael that I was sure that it was something that could wait until tomorrow and not to worry with it tonight," added Jaime. "However, I could tell Michael didn't feel comfortable with that. And Michael wasn't."
"He politely asked me for the phone number so that he could make sure with my boss what it was he needed," Jaime wrote. "Instead of letting it go until the next day Michael made sure that his employer and his customer's needs were met that evening."
Dependability is important because it is the foundation of a person's agreement; customers, vendors and other business associates can confidently enter into transactions with those that keep their words and show themselves as trustworthy. It is the engine of commerce.
"I don't know too many people who would have bothered following up like that, especially anyone who is in their early twenties and still attending college. This is just one small example of how Michael shows how dependable he his; he sacrificed his personal time to make sure the needs of others were fulfilled," added Jaime.
"Every time Michael is asked to take care of something for us, whether it's helping a customer or one of us with something, he is always ready and willing and we know he will get it done, no question! As a matter of fact everyone at the bank knows how dependable Michael is. His co-workers named him as 'employee of the year' last year! I can't think of a better way to thank Michael for all that he does than honoring him with a nomination for an award that he so truly deserves," Jaime concluded.
Jaramillo works as a branch manager at Citizen's Bank of Edmond's main branch, while he is finishing his senior year as a fiancé major at the University of Central Oklahoma (UCO) with plans to pursue an MBA at UCO following his graduation in May 2008. He also holds several honors including the UCO President's Honor Roll, the Delta Mu Delta Business Administration Honor Society and serves as the Vice President of Finance at Sigma Tau Gamma Social Fraternity. He was also selected the "2006 Employee of the Year" at Citizen's Bank.
When asked what influenced his good charactership, he said, "I was mainly influenced by my family, especially my mom."
The City of Edmond and the Character Council of Edmond thanked Michael Jaramillo for representing the Edmond community as "champion of character."
---
«
More Champions of Character