Nikki Spence, Champion of Character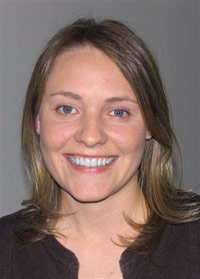 Nikki Spence demonstrated the character trait of determination by her purposing to accomplish right goals at the right time, regardless of the opposition, wrote Sarai Higgins, who nominated Spence.
"When she says she'll be there, nothing will stop her," wrote Higgins." She's always there when you need a hand; always there for an encouraging word, or just to let you vent."
"This wonderful lady has done anything from letting my dogs out if I'm running late, even working while having walking pneumonia," said Higgins. "I would trust her with my son, and so do many others; she baby-sits even when she has work coming out of her ears. She's a great friend and I feel blessed to have met her."
Determination is important because it encourages others to keep going despite difficulties and helps lay a foundation upon which others can build. It also allows yourself and especially others the experience of satisfaction for finishing a difficult project and thus helps to build confidence and the will to pursue even greater things.
"Nikki has one of the most important jobs there is: Teaching our kids, the future generation." added Higgins. "I know many others who know her and feel like our future is in GREAT hands."
At work, Spence typically goes to work early and stays late to be super organized and ready to give her best to her students, said Chisholm Elementary School Principal Joann Graham. In addition, "She seeks advice from colleagues; works closely with students' parents, in order to strengthen her skills as a teacher; determined to be the best teacher she can be."
"Nikki Spence is beyond determined," added Chisholm Principal Dr. Beth Kanaly. "She has shown great determination while succeeding in being an outstanding teacher."
Being a first year teacher is very daunting, said Kanaly. "Nikki has faced several personal issues in the past two months and yet you would never know it in the classroom. Whatever she is facing, whether it be walking pneumonia or something else, she leaves it at the door as she comes in everyday to do the best job she can. She has taught for three months and would seem like she has taught for years. She is determined to teach every child keeping in mind their individual trials and triumphs and always with a smile and positive attitude."
The City of Edmond and the Character Council of Edmond thanked both Nikki Spence for representing the Edmond community as a "champion of character."
---
«
More Champions of Character