Raines 'Champion' of dependability for those with Alzheimer's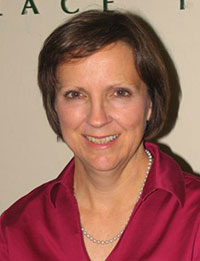 Verla Raines' mother had Alzheimer's disease for 10 years, passing away last year at 89.
Raines and her family shared a home with her mother for two years during her illness. Life with Alzheimer's disease and age-related dementia illnesses can be difficult, not only for the person who has it but also for the caregiver.
"People with Alzheimer's depend on others for so many of their daily needs," Raines says. "You cannot just walk out the door. You have to be available and dependable 24/7."
The Character Council of Edmond has selected Raines as the "Champion of Character, personifying the November trait of dependability, which can be defined as fulfilling what one consented to do, even if it means unexpected sacrifice.
Her experience with the disease illustrates the character trait of dependability.
Today, Raines serves the residents of Touchmark at Coffee Creek's Prairieview Memory Care Residences. In her job as life enrichment/wellness coordinator, she works with people living with Alzheimer's or other age-related dementia illnesses, enriching their lives through a range of new and familiar activities.
"People living with memory loss need to feel secure. They need to have dependable and reliable caregivers, those who will fulfill their promises and try to help in the best way possible."
For example, "Jane" likes to go with Raines wherever she goes. When Raines must attend a meeting, she helps Jane become interested in another activity and tells her she will see her "pretty soon" after lunch.
"If I say I will see her pretty soon, I will make a point to do that."
One resident depends on Raines to send an email to her daughter. This form of communication is quicker and easier than postal mail, and this can be helpful to residents. She says she diligently writes the message and then makes sure to read the response back to the resident.
"People with Alzheimer's need to know you will be there. You have to be personable, and you need to enter their world and truly experience the current moment."
Raines elaborates. "The daily Music and Movement morning session at Prairieview emphasizes singing, moving, thinking and socializing. Residents can depend on us to engage them every day in meaningful and helpful activities."
Raines is a longtime Edmond resident, moving here in 1972. A 1976 graduate of Edmond Memorial High School, she attended college at Central Christian College in McPherson, Kan., and Seattle Pacific University in Washington. She finished her Bachelor of Arts at University of Central Oklahoma in 1980, earning a degree in English/Secondary Education. It was there she met her husband, Clarence Raines, now a retired pastor who home-schools one of their two sons.
Raines has been a junior-high and high-school teacher and has worked at several churches in administrative or educational roles. The couple volunteer at nursing-home worship services and lead Wednesday Bible studies and hymn sing-alongs at Prairieview.
"We have a special place in our hearts for folks with Alzheimer's/dementia, since we went through that journey with my mother," she says.
November is National Alzheimer's Disease Awareness Month.
---
«
More Champions of Character