Second Lieutenant Anndea Jordan, Champion of Character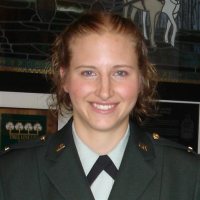 On behalf of the board of directors of the Character Council of Edmond and The City of Edmond, we congratulate Anndea Jordan for being selected as a "Champion of Character," representing the character trait of honor.
The council is a grassroots, non-profit, organization committed to creating a citywide initiative to build Edmond into a "City of Character." The group believes that the character of a nation can only be strengthened one person at a time, one community at a time. Toward that end the Character Council of Edmond seeks to recognize residents who demonstrate character, as witnessed by those who have been affected and influenced.
Jordan exemplifies the character trait of honor (vs. disrespect): Respecting others because of the higher authorities they represent. The trait is exemplified by: how you value each person, communicate respect, cooperate with the structure of authority and especially how you conduct yourself honorably.
Following high school she wanted the opportunity to serve her country and further her education. In 2000 she applied and received a four-year ROTC scholarship from Oklahoma Christian University, a partnership school of the University of Central Oklahoma, and was on her way to getting what she hoped would give her a sense of esprit de corps.
As a cadet, Jordan became involved in many organizations while attending Oklahoma Christian University: She was a mentor for lower income families at Western Village; helped keep married and engaged couples involved on campus with the United Club; member of the Alpha Chi honor society, Beta Beta Sigma and Sigma Epsilon Kappa. She was also a Critical Incident Response Team volunteer, a Student Government Association representative, and a UCO Christian Outreach Center volunteer.
In the summer 2003, Cadet Jordan was scheduled to attend the required Leadership Development and Assessment Course (LCAC) at Ft. Lewis, WA., where ROTC cadets are trained and evaluated on their leadership potential. However, in March of 2003, Cadet Jordan injured her knee in a skiing accident which prevented her from attending. She took time off to heal her knee and planned to attend LDAC the next year.
Just before Cadet Jordan was scheduled to leave for LDAC in 2004, she found out that she and her husband were expecting a child. Undeterred, she still wanted to attend, but was told that she could not due to her pregnancy. Cadet Jordan was committed to having her baby and returning to the ROTC program to finish what she had begun.
"Though she could not complete the ROTC program, she still graduated from college last May with a Bachelor of Science in Interdisciplinary Studies with a cumulative GPA of 3.69," wrote LTC Stuart Jolly, University of Central Oklahoma ROTC, Commanding, who nominated Jordan. "She accepted an administrative assistant position in the Department of Military Science during the pregnancy, and enrolled in 12 hours at UCO as a graduate student, studying Secondary Education Science. She completed the semester with a GPA of 3.72."
These things demonstrated her commitment and allowed her to maintain her connection with UCO's ROTC program, as she prepared to give birth and waited to attend LDAC in the summer of 2005. On January 31, 2005, at 11:57 AM, Samuel Vincent Jordan was born. Cadet Jordan spent only six weeks at home after giving birth and then set out to fulfill her goal of completing the ROTC program at UCO." She passed the very first physical fitness test she took, a huge feat considering she had recently given birth," added Jolly.
"Cadet Jordan has faced insurmountable odds, but refused to quit," wrote Jolly. "Most would have given up on completingROTC after not one, but two huge obstacles. She stayed true to herself and her country…. She is an incredible cadet, student, mother and citizen who is worthy of being honored with this award. She exemplifies the value of Honor."
Jordan was commissioned a Second Lieutenant in the United States Army on 10 July 2005 at FT Lewis, WA., and hopes to serve in the Adjunct General Branch at either FT Leonard Wood, MO. or in Germany.
Thank you for representing Edmond as a "champion of character."
---
«
More Champions of Character