Tana Stufflebean honored as Champion of Character for her "thoroughness."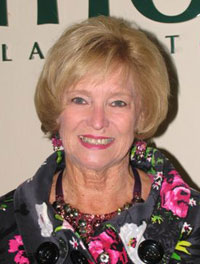 "Tana Stufflebean demonstrates 'energized' thoroughness in everything she does; she starts a project, makes sure every detail is taken care of and finishes it completely and properly with a meticulous enthusiasm," wrote Melva Davis, in her nomination of Stufflebean as a "Champion of Character," for her "thoroughness."
Thoroughness can be defined as "Knowing what factors will diminish the effectiveness of my work, if neglected," said Character Council of Edmond's Diane Krakowski.
Stufflebean has been the leader of "Connections" Bible study that meets at First Christian Church for many years, wrote Davis. Not only is she thoroughly prepared with the study, but she goes the "extra mile" by making sure the atmosphere is conducive to a positive experience.
Before each class, she decorates the tables with color-coordinated table runners, center-pieces, candles, etc. She prepares each person's folder with color coordinated special graphics and name tags which are all in the theme of the Bible study. She assigns the table leaders and arranges for food to be brought to every meeting. After the study, she arranges a place where the attendees can meet for lunch, creating a warm atmosphere for a comfortable and relaxing study for all participants.
Her "creating a warm atmosphere" trait came early.
"From the time I remember having birthday parties, my mother would help me plan the parties together, said Tana Stufflebean. "We always had a coordinated color theme with invitations, table decorations, favors, activities, and thank you notes. We would spend all week in preparation."
"This was the beginning of teaching me thoroughness in my school work and social activities and it carried over to my teaching career and involvement in organizations; the importance of preparations was wonderful mentors for me. I've tried to instill this in my own children, grandchildren, and in my students as they prepared school assignments, and became involved in organizations and committee work."
And it shows in the many responsibilities Stufflebean has taken under her wings.
"I love living in Edmond and participating in the many activities that Edmond has to offer," said Stufflebean. "Our family feels very privileged to have spent the last 45 years here."
She also serves as an elder at the First Christian Church, where one of her many responsibilities is that she is assigned an individual or individuals to "Shepherd."
"These are members who are in crisis: poor health, loss of spouse, care giving, etc. She is there to offer encouragement, support, problem solving and/or anything that could help that person to deal with their situation" wrote Davis. "She's involved in 'Dress for Success,' which is a community outreach organization that provides professional clothing for women preparing for a job interview and is not able to purchase the clothing, by helping ladies get their outfits ready for their interviews."
She has faithfully served on the board, solicits the clothing from retailers, friends, and any source she can find. She picks up the clothing, sorts, categorize by size and type of clothing; professional or casual. If they get the job, they may return to receive three outfits for the job.
"If it were not for people like Tana," said Davis, "these services would not be available and many ladies would not have the opportunity to put their 'best foot forward' in seeking a job to support their families. "
It was with sincere appreciation that the Character Council of Edmond and the City of Edmond honored Tana Stufflebean as a Champion of Character.
---
«
More Champions of Character