Teresa Hoehner, Champion of Character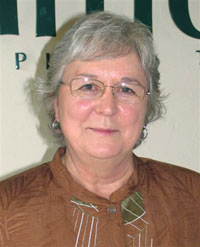 The Character Council of Edmond recognized Edmond's Mobile Meals Director Teresa Hoehner, as "Champions of Character" for the character trait of gentleness.
The trait of gentleness is defined as, "Showing consideration and personal concern for others," said Character Council president, Jim Hulsey, adding that, "Gentleness is typically a trait that we recognize in those people that reach out to others regardless of any socioeconomic barriers, to uplift and build relationships through respect and understanding without inflicting unnecessary hardships even if it's to correct or to motivate."
"Teresa's everyday life reflects one of gentleness where she shows consideration and personal concern for others," wrote Ruth Adams in her nomination of Hoehner.
As the director of the Edmond Mobile Meals program over the past seven years, Hoehner's guidance and direction, while working with her large team of volunteers, has certainly been a contributing factor in reaching the organization's ever growing goals to provide mobile meals to an increasing growing population of 'homebound' individuals that are in need – a program that was begun here in 1974. In doing so, Hoehner has mentored "gentleness" for many others.
"It is her concern for the welfare of others that makes being a volunteer at Mobile Meals an inspiration and a joy," wrote Adams.
"She knows each of her volunteer staff of over two hundred by name (cooks, drivers, grocery shoppers, meal planners, office workers) and always shows an interest in what is going on in their lives. On any given day you will find her the first one at the kitchen. She jumps right in when a need arises—from cleaning, to cooking, packaging and delivering or what ever needs to be done, just to make sure that the growing number of clients — over 165 — will receive a 'nutritious and delicious meal each day by noon.' Many times she will make a 'special delivery' when a client has a doctor's appointment and will not be home during the regular delivery time."
The Benefit: The volunteer's exposure to Teresa's philosophy of volunteering and helping others will serve them well, as well as the communities in which they live, in the years to come.
"Her gentleness is not only reflected in her work with Mobile Meals but in her family life and with her Church and community," added Adams. "Teresa is always looking for new and better ways to serve our present clients and the others who might be in need. She is indeed a special person and a true reflection of Gentleness."
"Teresa goes above and beyond on a daily basis with our program and our clients," wrote Edmond Mobile Meals' Driver Coordinator, Laura Grooms, in a related story she shared of how she was impacted by Hoehner's gentleness.
"One evening Teresa called to check messages at the Mobile Meals office. There was a message from one of our clients saying 'Hi Teresa Hon, (she always called Teresa Hon), I'm very sick and need help.' Teresa called and couldn't get a hold of her, so she and her husband, Mark, drove over to her home and realized she had been taken to the hospital. The lady's son was out of the country."
"They drove to Edmond Hospital, but she wasn't there. They called around for her and found out that she was at a hospital in the city. They went in, explained who they were and waited in the emergency waiting room. The client wanted them to send Teresa in. She was very sick, but while she was being worked on, she held Teresa's hand and looked her in the eyes. They moved her to intensive care and Teresa followed her there. About 2:00 in the morning, the hospital staff told Teresa to go home and they would call her if there was any change."
"They drove home (approx. 25 miles) and as (Teresa) was getting in bed, the phone rang. The hospital nurse said the patient had taken a turn for the worse. They got back in the car, drove up there, and were the only ones that she knew with her when she died. Teresa told me that she was 'so thankful that she had checked messages because she would have hated for her to be all alone.' That is an example of Teresa's wonderful, loving, and gentle spirit!"
Adams added that there are many incidents where clients call Teresa first when they are in need.
"A lady, whose family lived in another part of the state, thought she was having a heart attack and Teresa was the first one she called," wrote Adams. "Teresa called 911 as she was on the way over to the client's home; she was there when the paramedics arrived, stayed with the lady till she was placed in the ambulance and followed her to the hospital. Oh, and as I understand, she took the time to call a friend of the lady to take care of her little dog."
"It is Teresa's gentle spirit and concern for others that makes each of the MM clients feel that they can trust and call her for just about any of their needs."
It's these kinds of exemplifying examples that return good for good, said Hulsey, especially when they affect the young people in the community. In addition, Hoehner willingly makes the effort to accommodate the request of high school and college students who need volunteer hours for school requirements.
Adams mentioned, "I had a recent conversation with the mother of one of MM's teenage volunteers. The teenage volunteer was quoted as saying, 'Mom, Teresa just makes you feel so good about yourself. She brags on all of the work you do and how well you do it and how much help it is to MM. She really appreciates what you do.' Coming from a teenager, that is pretty positive feedback."
This is just another way that Hoehner has used her position, responsibilities, personality and her kindness to improve morale among her coworkers, building stronger customer relationships that benefits families and our youth in the Edmond community, said Hulsey.
Teresa Hoehner and her husband, Mark, have lived in the Edmond community for over 30 years, and have two grown sons, Anthony and Nicholas, all of whom have been constant supporters during the years that Teresa has served as director of Mobile Meals. In a tribute to her parent's influence, Hoehner said, "I was privileged to grow up in a family in which helping people was second nature."
It has been the courage of the people Mobile Meals serves, and the commitment of the volunteers, and the vision of those who started Mobile Meals in 1974, and the generosity of the community of Edmond that Hoehner says was an inspiration to her also.
"I'll never forget Janie, who was terminally ill from cancer, who chose to spend her last weeks delivering meals – until she was too frail to get in and out of a car," said Hoehner, regarding a volunteer that inspired her. "She touched the hearts of the folks on her route and all of us."
Mobile Meals was initially a telephone ministry to check on the homebound and then with the help of donations from area churches it grew to what it is today. Today's funding comes from donations from churches, businesses and individuals, from several grants including from the city, and from fundraising. For more information call Mobile Meals at 1-405-341-3111.
---
«
More Champions of Character