Terry Lanham, Champion of Character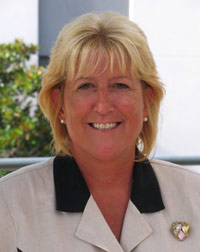 The Edmond City Council, in coordination with the Character Council of Edmond, recognized Terry Lanham, as "Champion of Character" for the character trait ofboldness, during the Monday evening, July 23, city council meeting.
Lanham has demonstrated the character trait of boldness by her support in keeping her neighborhood clean, safe and secure for all your neighbors, and her actions have demonstrated her commitment to the people of the Edmond community and its society as someone that can "always be counted on when most needed," wrote her neighbors Anita Brumley and Paula Mooney.
"I can trust on her to watch my home and ensure all is save and secure," wrote Mooney. "She has no reservations to ask why someone is on my property while I am away from home. On occasions when my youngest daughter has come home and I was not there yet, she would go to Terry's home and stay with her until I returned. Terry is always someone that can be counted on and trusted."
Following an accidental kitchen fire, rather than lament over the loss, but preferring to let the situation speak for itself, "Terry had me bring my children over to see the damage that only a small kitchen fire could cause. It was a real lesson for my children to see what a fire could do to a home in only a few minutes," added Mooney.
"Terry is BOLD, I know that and I love it," wrote Brumley. "I have no doubt that she'll stop speeding cars in our neighborhood and tell them to slow down and watch for kids." And, whenever an emergency vehicle comes into the neighborhood, "Terry makes sure that our neighbor is okay and that his family had been notified. She has been a true friend … and I know that she always has my back and will be my voice when I don't feel bold enough to speak up."
Lanham works as the Special Venues Coordinator for the City of Edmond Parks Department, during which time she has been dedicated to Festival Marketplace and the Downtown Edmond environment, said Edmond Parks Department Director Jim Bowlin.
Bowlin has worked with Lanham for the past 3 years and said, during that time, he observed her total dedication by the way she had developed and promoted the Festival Marketplace to the extent that it's "now the most sought after Farmer's Market location in the Metro area."
"She is committed to the enrichment of the total Downtown Edmond environment," added Bowlin that "Lanham is a tireless worker, and I believe this is where her qualities of boldness in thinking shine."
Under Lanham's management, the Festival Market place now is host to a variety of activities form dances, to Festivals, to weddings.
"She is, in my opinion, an excellent choice to receive this award," said Bowlin.
The Edmond City Council members, community and Character Council expressed their appreciation to Terry Lanham for her encouragement to others to take courage, never give us and hold the line toward the success of others in the Edmond community as a "champion of character."
---
«
More Champions of Character