Theresa Hoffhines—Champion of Character for "meekness."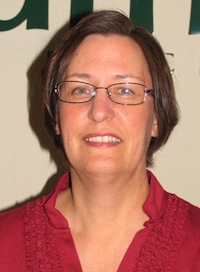 The character trait of meekness, "yielding ones personal rights and expectations with a desire to serve," prompted both Ruth King and Dr. Harry Kocurek, to nominate St. Elizabeth Ann Seton Catholic School (SEAS) first-grade teacher's assistant, and 28-year Edmond resident and mother of two, Theresa Hoffhines, as a Champion of Character.
Hoffhines has worked as a teacher's aide at SEAS for 12 years, where her husband also teaches, and she often gives up her 15 minute breaks to help students or to help teachers, said Ruth King. "She frequently stayed to help me finish reports or to send my emails — as I was still learning to utilize my computer!"
"On this one day I could NOT underline a note that was to go home to my parents; the computer kept ERASING the whole word. She was about ready to leave for the day and could see my frustration; she came over to see if she could help. I said, 'The stupid computer keeps erasing when I back up to underscore.' She then graciously said, 'See your tool bar? Look at the U,' while she quietly suggested using that so the word could be underlined! What a lesson I learned," exclaimed King. "And, she did it in such a quiet, meek way, I never felt embarrassed or dumb. I so appreciated that. And, I was able to accomplish communication with my (students') parents!"
"Theresa creates a positive environment of tranquility and calm. She is a servant in joyful ministry to others with no strings attached," is how Pastoral Associate for Education at St. John the Baptist Catholic Church, Dr. Harry Kocurek described Hoffhines.
"In this day when almost everyone is self-focused," wrote Dr. Kocurek, "it is humbling to observe Theresa's meekness and gentle, un-assuming nature always focused on someone else, building them up — never herself — even when the credit is due her and well earned. She never raises her voice with anyone, always listening patiently while providing the necessary instruction and leadership required in any given situation. She is a joy to work with, truthful, tactful, ever-positive team player who instills service in others by her example."
---
«
More Champions of Character