Theresa Nelson, Champion of Character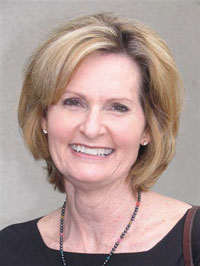 The Edmond City Council, in coordination with the Character Council of Edmond, recognized Theresa Nelson, as "Champions of Character" for the character trait ofenthusiasm, during the Monday evening, March 26, city council meeting.
Nelson has demonstrated the character trait of enthusiasm by the joy that she expresses in each task, commitment and motivation involving the SummerStock productions, wrote Ann Baumgarten, who nominated her.
As the president of SummerStock, Nelson's enthusiasm is responsible for the success of the Edmond summer theater programs at Mitch Park, which requires her to spend hours raising funds and leading the SummerStock team – all great successes based on the increasing audiences each year, said Baumgarten.
"She believes in children and their ability to learn the theater arts and to perform, putting her heart and soul into the programs." wrote Baumgartner. "Theresa has a vision for success, pride in what she does and the enthusiasm in making it happen, which makes SummerStock what it is!"
"Her excitement and enthusiasm are both refreshing and contagious," added Jackie Shaw, the Executive Director of the Edmond Family Counseling Center. "If not for her passionate work and the desire to make theatre available to children and families, they would not have an opportunity to experience this venue."
---
«
More Champions of Character