New Scholarships Awarded
With our city-wide initiative based on the idea that "a nation can only be strengthened one person at a time, one community at a time," the Character Council of Edmond continues to strive to find new ways to promote character in our community. One of our newest programs is our Senior Scholarships. The Council wanted to focus on high school seniors who demonstrated good character in their daily lives. Seniors were asked to write a 400-450 word essay on how they exemplified a specific character trait or traits.
Last year the Character Council of Edmond partnered with the Kiwanis Club of Edmond to offer a $1000 scholarship to an Edmond senior. This year, with additional funding, the Character Council in partnership with the Kiwanis Club awarded three $1000 scholarships. One senior from each of the Edmond Public Schools high schools was chosen to receive a scholarship.
The scholarship selection committee comprised of a member from the community, Kiwanis members, and Character Council Board members had the arduous task of selecting 3 recipients from the outstanding applications submitted. We are pleased to announce our 2016 scholarship winners: Kathryn Puckett (Edmond Memorial); Hannah Berndt (Edmond North); and Kennedy Allbee (Edmond Santa Fe).
.
In her essay, Kate Puckett wrote about how the character traits of dependable, determined, and loyal are exemplified in her life especially through her commitment as a cheerleader. In her closing paragraph she wrote, "You see, the character traits of a cheerleader are now a part of my soul. Dependable, determined, and loyal-these are my building blocks for a successful life." Besides being a Varsity cheerleader at Memorial, Kate is an Oklahoma Academic scholar, Edmond Women's Club Ambassador, serves as a Big Sis for the American Heart Association, and is active in various high school organizations. Ms. Puckett has been accepted to Oklahoma State University Honors College where she plans to study health sciences
Hannah Berndt focused on the character traits of compassion, determination, and creativity in her essay. Her creativity shines through in her essay as she compares herself to a sponge stating: "Just as a sponge, I absorb the love of my family, the compassion of my friends, and the kindness of strangers. I soak up my surroundings, but am determined to squeeze my love onto everyone around me." She restarted the "Teens Against Bullying" club at Edmond North and serves as president. She also is an active member of the Key Club serving as webmaster, vice president and currently president. Hannah is an Academic All-State Nominee and received the AP Scholar Award for seniors. Ms. Berndt will be attending the University of Arkansasa in Fayettville.

Our third recipient, Kennedy Allbee focused her essay on compassion, but also demonstrated determination and generosity in her actions. She wrote, "My parents have always told me to strive for excellence and pursue my dreams. I believe that these small 'pep talks' are the reason why I am so determined to succeed in every aspect of my life." Kennedy excels in the Santa Fe symphonic orchestra as a violinist, serves as president on the student council, and is an honors student. She also volunteers at the Infant Crisis Center and serves as a Junior Ambassador. In the fall, Ms. Allbee will attend Baylor University and begin her studies where she hopes to pursue a career with prosthetics.
Please consider making a tax deductible donation to the Character Council of Edmond. Your generous support will be used to help fund the character scholarship program for Edmond high school seniors. Please contact us for more information by visiting our website at www.edmondcharacter.org or by mailing your contribution to the Character Council of Edmond P.O. Box 392 Edmond, OK 73083-0392. We appreciate your support.
Character Council Offers First Parent Training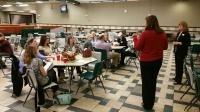 Parent Training—Strengthening the Character of a Nation
Despite looming weather forecasts, parents turned out for the Parent Training sponsored by the Character Council of Edmond (CCE). Dr. Virginia Smith from Strata and Diane Krakowski, CCE board member and former teacher, talked with parents about how character training is one of their most important tasks. They encouraged parents to concentrate on the things they can control rather than the external influences they can't control. They also talked about using character to address behavior issues rather than adding more rules.
In the introduction to her book, Raising Positive Kids in a Negative World, Dr. Smith said, "By teaching our children good character and modeling what it means to be a kind, compassionate, and civilized person, we can point them in a positive direction and override the negative messages they receive from the outside world."
Each family represented at the Parent Training received a copy of Dr. Smith's book, courtesy of the CCE. During the second half of the evening, parents divided into groups and used scenarios from the book to launch discussions about the character trait of self-control. The exercise gave parents a taste for how to direct their conversations with their children. Parents praised the training, citing their excitement to discover helpful skills to teach their children character while responding in an encouraging way.
The Character Council of Edmond sponsored the Parent Training, believing that the character of a nation can only be strengthened one person at a time, one community at a time.
Archive
---
September, 2015
May, 2015
December, 2014
December, 2014
October, 2014
April, 2014
November, 2012
December, 2008
April, 2008
February, 2007
August, 2006
October, 2005
August, 2005
August, 2005
June, 2010
October, 2004