Edmond Public Schools recognize Character Council of Edmond as Community Partner
Shown are Council board members (left to right) Tara Fair, Jim Hulsey, Diane Krakowski and Lee Ann Kuhlman.
Edmond Public Schools recognized the Character Council of Edmond as a Community Partner at its (2012) Nov. board of education meeting. Among the many ways the Council helps the district is by offering a half day of character education training every fall that is free to educators and parent volunteers who assist with their local school's character development initiative. The Council picks up the cost for the training fees, materials and lunch.
"Character development plays such an important role in education and especially these days when we are trying very hard to instill in our students values and traits that contribute not just to their academic success but also to their emotional and physical well-being. Past recipients have included the Fine Arts Academy of Edmond, UCO, Mercy and the City of Edmond."
Former Arkansas Governor and presidential candidate Mike Huckabee recognized for his endurance.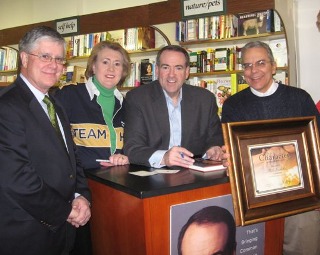 Mayor O'Neil, Janet & Mike Huckabee, and Gerald Coury
During a recent (22 November, 2008) book tour visit to Best of Books in Edmond to promote his latest book, "Do the right thing," former Arkansas Governor and presidential candidate Mike Huckabee was presented a character certificate for the character quality of endurance, by Character Council of Edmond representative Gerald Coury and Edmond Mayor Dan O'Neil. Coury presented the former governor with the character certificate noting that Huckabee demonstrated this quality "... from his days as governor of Arkansas, through his campaign for president, and now with his own television show and book tour."
Coury also noted that when someone stands for proven principles, like Huckabee, that there will always be opposition and stress, adding that Governor Huckabee endured and is a good example for all of us to follow, to "Do the right thing."
Huckabee responded that this was an excellent quality to recognize him for, as he was in the process of traveling to fifty-six cities to complete the book tour. He sincerely appreciated the warm welcome and recognition, and said that he "loved the City of Edmond," as he would not have had this type of response even from his home town.
Sources at Edmond's Best of Books said that the response to Huckabee's visit was "overwhelming;" that over 500 people attended, and to date they've sold nearly 900 copies of Huckabee's new book.
Wests Join Character Council
Stephanie West and daughter "Miss Oklahoma 2011" Emoly West, waiting just outside of a classroom at Charles Haskell Elementary School in Edmond, where Miss West spoke to several classes about the importance of "making good decisions rooted in sound character qualities." Both mother and daughter, who share in the initiative that character aids in making right decisions, recently joined the Character Council of Edmond's board of directors.
New board members build Edmond into "city of character"
The Character Council of Edmond announces the addition of four new board members to further the goal of building Edmond into a "city of character." The new members are Bill Farley, University of Central Oklahoma; Lisa Kadavy, Cheyenne Middle School; Joan Krauss, St. Elizabeth Ann Seton Catholic School; and Jackie Shaw, Edmond Family Counseling Center.
"Each new member brings a strong sense and passion toward good 'charactership' to our board, building on a great foundation that's already in place," said Jim Hulsey, Character Council president.
The Character Council of Edmond is a non-profit organization of volunteers from various career areas around Edmond who are working to create a citywide initiative to build Edmond into a "city of character." Formed in 2001, the Council believes that the character of a nation can only be strengthened one person at a time, one community at a time.
"By being on this committee, we want to take the message to the masses that character is important, thus increasing its visibility and awareness," said Farley, Athletic Director at the University of Central Oklahoma.
Hulsey hopes that Farley and other board members will work to create an Edmond "Character Sports Initiative" program that exemplifies good charactership with teams, players, coaches and parents. The program would honor those who exemplify that good character.
Since 2002, the Character Council has provided character-based Character First! trainings to over 100 public and private elementary and middle school educators. By providing this training, the educators will in turn exemplify and teach character to their students. Both Kadavy, a counselor at Cheyenne Middle School, and Shaw, Executive Director of the Edmond Family Counseling Center, see the importance of proper character training in schools.
"I had the opportunity to attend a Character First! training session last fall. The training was insightful and gave me new ideas and ways to implement Character First! as a school counselor," said Kadavy, a counselor at Cheyenne Middle School. "I am pleased the middle school teachers in Edmond have attended character education training. It is imperative we continue to encourage good character in our schools."
Krauss plans to make Character First! training an integral part of the curriculum at St. Elizabeth Ann Seton Catholic School where she teaches middle school.
"As a middle school teacher, I am constantly stressing to my students the importance of achieving and practicing good character skills," said Krauss. "Through this invaluable program, our students will embrace these important skills needed to be successful individuals in all aspects of their lives."
For more information: CONTACT: Whitney Pettyjohn, 20 Hats intern@20hats.com 405.604.5941, ext. 100
Character Council of Edmond Adds New Board Members
Published in The Edmond Sun, Page 13, July 28, 2006
The Character Council of Edmond recently announced the appointment of four new board members. Edmond business representatives and residents Mary Ellen Bridwell, Danielle Ezell, Tiffany Riggar and Jim Priest will serve on the board through 2007.
"We are delighted to have these four business leaders join the Council's board," said Council President Jim Hulsey. "Each of them has unique talents that will help us strengthen and expand upon the work that we've done since our inception in 2001."
The Character Council of Edmond is a non-profit organization of volunteers, from different career areas, working toward the goal of a citywide initiative to build Edmond into a "city of character." The Council strongly believes that the character of a nation can only be strengthened one person at a time, one community at a time.
The current (2005 – 2007) Character Council of Edmond board members are Kathy Allen, Mary Ellen Bridwell, Terry Byers, Danielle Ezell, Marilyn Jones, Jim Hulsey, Diane Krakowski, Lee Ann Kuhlman, Steve Menzel, Jim Priest, Tim Richardson, Tiffany Riggar, Mike Roark, Blanche Washington, and Kris Watson, with Gerald Coury serving as an advisory member.
The board will be busy during the next few months. In September, the Character Council will once again host two days of training for Edmond area teachers. The event, which is free of charge, equips educators with tools and materials they need to successfully build character in the lives of their students.
Building local character continues.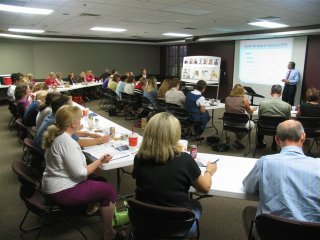 For the third consecutive year, the Character Council of Edmond has provided the means for Edmond area educators to have the instruction and supporting materials to help their students build good charactership at no additional costs to an already budget conscious educational system.
This September, 43 educators representing eight area schools, both public and private, were invited by the council to locally receive the character training designed by the Character First! Educational Training Institute from Oklahoma City.
The initial efforts began a number of years ago as part of the vision by the council, to promote good character traits and to help Edmond to become a "city of character."
One of Edmond's greatest resources, said Council President Jim Hulsey, in making Edmond a city of character are the children in the Edmond community. In the beginning the council only had enough financing in place to offer the training to one school, a middle school, to send about 15 educators to the training, added Hulsey. However, after the replies the council received from those few teachers, the council was encouraged to continue in their efforts.
"Three years ago we didn't know, going in, what the response was going to be when we trained the middle school teachers," said Hulsey. "However, after receiving such responses as 'building character at this age will greatly benefit students'; 'this is more to the heart of student behavior'; 'I think this program will make my students better citizens'; I think our school will be a better community after introducing this program'; 'improve the classroom'; and then, 'Instantly I can use it. Character Council, keep doing this. It is wonderful!' we knew we had found the right tool."
The second year, with additional funding being made available, over 60 area educators were trained during two half-day trainings.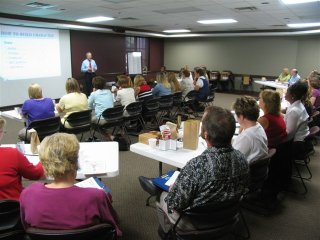 However, despite limited funding and despite the overwhelming numbers of this year's middle school student population nearing 4,300, and a total student population being over 19,000 in the public schools alone, the council remains committed.
"The council realized that to sustain what we had begun in the school system would take a commitment for years to come. We knew that the schools have continuous turnover of teachers, some of which may have had the character training. At that time we became committed to the area principals, who have been very supportive, as have the teachers, to keep the character initiative alive and, funding allowed, we would continue to re-supply their need for character trained educators," said Hulsey.
It has only been by oversight, added Hulsey, that the council has excluded any area middle schools. "It was only recently that I learned of a few private area schools in the Edmond area that we had missed, and we're currently making plans to include them for future trainings." And although the focus on character in schools thus far has been in the middle schools, the future plans by the council, one day, funding allowed, will be to include elementary and high schools, added Hulsey.
"Our young people are our future; the resource for what this community will become. It should be not only the responsibility of the Character Council, but the responsibility and involvement by area businesses, churches, local government, law enforcement and our citizenry to support an initiative to encourage this resource to become champions of good character," added Hulsey, "in order that Edmond may become a 'city of good character.'"
Hartzog steps off Character Board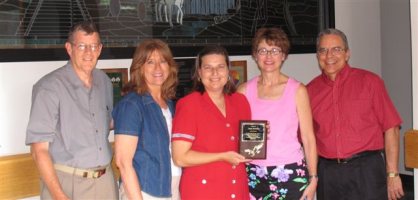 Members of the Character Council of Edmond, President Jim Hulsey, Diane Krakowski, Carol Hartzog, Terry Byers and Gerald Coury, presented Carol Hartzog with a presentation plaque in appreciation for the five years of service Hartzog had dedicated to the Council, following Monday's City Council Meeting. Hartzog recently stepped down from her position as media committee chair on the board.
A special acknowledgement and plaque was presented to Carol Hartzog, following Monday's City Council Meeting, by the Character Council of Edmond, honoring her for her five years of passion, dedication and service as both co-chairman and media committee chair on the Council's Board of Directors.
"All organizations need a change to grow, as do people," said Hartzog, for her reason to step off as a member of the council's board. However, she still believes in the Council's mission.
"Take heart," added Hartzog. "For the business and educational world, the Character Council's mission and message is so vital. I believe in that, and will continue to support the organization in its mission."
Hartzog attended her first character council meeting in August 2000, bringing her community relation skills, business and media contacts into play. At the time, the council was still in its infancy, a new grassroots organization dedicated to promoting good character traits to the Edmond community. Since that early conception, the council has evolved; it became incorporated and received its 501c3 credibility, and receives support from the City of Edmond Social Agency Commission and from businesses and individuals throughout the community, which has thus far enabled the council of provide character training to over 60 teachers from most of the Edmond middle schools during the past two years.
Another visual impact Hartzog brought to the council and community attention are the periodic recognitions by the City Council and in the area newspapers of the "Champions of Character," which honor Edmond area residences for their good character.
"Carol's passion was infectious while she served on the Character board," said Council President Jim Hulsey. "She will be hard to replace, if that's even possible."
"We do take it very much to heart, like Carol said," replied Hulsey, "that what the council does 'is vital' in making Edmond a City of Character, one person at a time; one community at a time." The council intends on carrying on the good work and building on the solid foundation that Hartzog had helped to create, said Hulsey.
Summit Honored
By Jill Blankenship; Published in The Edmond Sun, pp. 1, 4; Jan. 27, 2005
Students and faculty at Summit Middle School were recently recognized by the Character Council of Edmond for displaying the trait of "generosity."
Meagan Hawley and her seventh-grade students at Summit recently participated in a project that sent various supplies, such as toothbrushes, soap, band-aids and pencils, to children living in an orphanage in Africa.
As a result of Hawley's and her students' work, they were honored by the Character Council at Wednesday's (1/25/2005) faculty meeting.
Jim Hulsey, president of the council, was on hand Wednesday to present a plaque to the seventh-grade class and a certificate of recognition to Hawley. "We are taking this opportunity to honor them," he said.
Hulsey said the council wanted to individually honor Hawley for exhibiting generosity. "Winston Churchill once wrote,
Archive
---
June, 2010
October, 2004