Character Council Receives Walmart Community Grant
Character Council Board members Diane Krakowski and Jim Hulsey receive a grant from Walmart Assistant Manager Dusti Shilling.
The Character Council of Edmond recently was awarded a $1,500.00 Walmart Community Grant. Walmart and Walmart Foundation has contributed more than $1.3 billion in cash and in-kind product donations to local communities. The Character Council was honored to be a recipient of a Community Grant this year. Board President Jim Hulsey along with Vice-president Diane Krakowski met with Walmart assistant manager, Dusti Shilling at the I-35 Walmart Super Center to acknowledge the award. The Character Council will use this money to help fund their newest program for parent trainings. The Council is partnering with Strata Leadership to create parent trainings that will be offered to Edmond residents. As always, the Character Council of Edmond seeks to promote excellence of character through activities and trainings within our community. To make a tax-exempt donation to help support either our Senior Scholarship Program or parent trainings, please contact the Character Council of Edmond at PO Box 392 Edmond, OK 73083 or www.edmondcharacter.org.
Character Scholarship Awarded at Santa Fe High School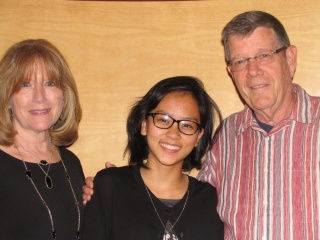 Diane Krakowski, Patricia Salas, and Jim Hulsey at the Santa Fe Senior Awards Ceremony.
Santa Fe High School Senior Patricia Salas was presented a $1,000 scholarship certificate, on behalf of the Character Council of Edmond in partnership with the Kiwanis Club of Edmond, during the May 15th Santa Fe Senior Awards Ceremony.
Salas was honored by Character Council President Jim Hulsey and Vice President Diane Krakowski for demonstrating the character trait of determination; purposing to accomplish right goals at the right time, regardless of the opposition. In her application, Ms.Salas wrote, "I believe in the power of self-motivation and its affect on one's life. Although not perfect, I am proud of myself. My accomplishments are the product of a great character: determination."
Patricia Salas has the distinction of being the first student to receive this inaugural Senior Scholarship. Future plans are to make the scholarship application available to seniors from all the Edmond high schools. Toward that goal, the Character Council of Edmond gladly accepts tax-exempt donations to fund the senior scholarships. Please send your contributions to: Character Council of Edmond, P.O. Box 392, Edmond, OK 73083-0392.


Oklahoma Schools Increasingly Embrace Character Education
BY PATTY MILLER
THE EDMOND SUN
OKLAHOMA CITY —
Madison Tomlinson, director of character education with the Muskogee Pubic Schools, says it is time for education to take a broader view of issues behind substance abuse. He said he was not surprised several years ago when Muskogee Public Schools officials asked him to lead the district's initiative in alcohol and drug abuse prevention. A former biology teacher at Muskogee High School. Tomlinson was willing to again take up the cause of fighting substance abuse —but with the caveat that "it will be under the character education umbrella."
Character education works to develop the sort of core values — integrity, honesty, compassion and grit — that transcend the classroom to help build happy, productive lives. In 2005 with House Bill 1704, character education or K-12 along with an initial grant for character education. "We determined that we needed to look at our school culture based on the lens of character evelopment," Tomlinson said.
Among the biggest cheerleaders of character education is the Oklahoma State Department of Education. OSDE staff works to provide resources and assistance to districts pursuing character education. "More and more schools across Oklahoma are recognizing the meaningful and enduring benefits of character education," said Sonia Johnson, OSDE's director of 21st Century Community Learning Centers. "It is exciting to see interest in it spread, particularly during a time in which we see young people dealing with revolutionary social challenges —from texting to Facebook and Twitter —that previous generations couldn't have imagined."
For many years, Edmond's Character Council has provided Character First training for the Edmond School District's elementary school teachers. A new program, called Engage, embeds the Character First qualities into an anti-bullying curriculum. About 30 teachers attended the 4-hour seminar at First Presbyterian Church under the leadership of the author of the book "ENGAGE An Active Response to Bullying," by Edmond resident Virginia Smith. "We have had character education programs in the hope to build character in our district schools," said Tara Fair, district associate superintendent of educational services, "like Great Expectations and Rachel's Challenge." Fair said this is the first time the district has been offered a curriculum to follow in the classrooms.
Under Tomlinson's leadership, Muskogee High School was designated a State School of Character (SSOC) by the Character Education Partnership, now named Character.org. Muskogee currently boasts two State Schools of Character: Sadler Arts Academy and Rougher Alternative Academy. Hilldale Middle School, located in Muskogee but part of Hilldale Public Schools, is also a SSOC. Tomlinson moved quickly to transform the culture of schools in the district. "Character clubs" sprang up in the elementary schools, while "character camps" over the summer helped carry on the importance of character education. Tomlinson recalled getting particularly inspired at a 2009 character education forum in Washington, D.C. "Even though we'd done things with character clubs in schools, it had
not been embedded in our culture as a whole," Tomlinson said. Experts say the most effective character education is integrated into a curriculum. By way of example, Tomlinson points to high school instruction about the 1995 bombing of the Oklahoma City federal building. That invariably leads to discussion about determination, resilience and faith — character traits that were critical in Oklahoma's eventual healing. Similarly, Muskogee students read about the Holocaust, which spurs an array of worthwhile topics. "Why were the concentration camps detrimental to mankind? What human virtues existed in those individuals who were survivors?" Tomlinson said. "You build those things into the curriculum." Muskogee schools' comprehensive approach to character education has had positive results. Tomlinson said test scores are up and attendance figures have improved. Disciplinary issues have declined.
A8 | EDUCATION THE EDMOND SUN SATURDAY, DECEMBER 27, 2014
© 2014 THE EDMOND SUN






Archive
---
December, 2014
October, 2014
April, 2014
November, 2012
December, 2008
April, 2008
February, 2007
August, 2006
October, 2005
August, 2005
August, 2005
June, 2010
October, 2004