Character Council Offers First Parent Training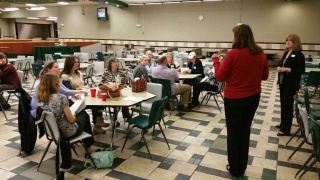 Parent Training—Strengthening the Character of a Nation
Despite looming weather forecasts, parents turned out for the Parent Training sponsored by the Character Council of Edmond (CCE). Dr. Virginia Smith from Strata and Diane Krakowski, CCE board member and former teacher, talked with parents about how character training is one of their most important tasks. They encouraged parents to concentrate on the things they can control rather than the external influences they can't control. They also talked about using character to address behavior issues rather than adding more rules.
In the introduction to her book, Raising Positive Kids in a Negative World, Dr. Smith said, "By teaching our children good character and modeling what it means to be a kind, compassionate, and civilized person, we can point them in a positive direction and override the negative messages they receive from the outside world."
Each family represented at the Parent Training received a copy of Dr. Smith's book, courtesy of the CCE. During the second half of the evening, parents divided into groups and used scenarios from the book to launch discussions about the character trait of self-control. The exercise gave parents a taste for how to direct their conversations with their children. Parents praised the training, citing their excitement to discover helpful skills to teach their children character while responding in an encouraging way.
The Character Council of Edmond sponsored the Parent Training, believing that the character of a nation can only be strengthened one person at a time, one community at a time.
Character Scholarship Awarded at Santa Fe High School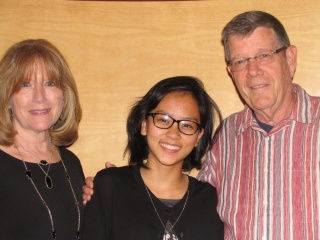 Diane Krakowski, Patricia Salas, and Jim Hulsey at the Santa Fe Senior Awards Ceremony.
Santa Fe High School Senior Patricia Salas was presented a $1,000 scholarship certificate, on behalf of the Character Council of Edmond in partnership with the Kiwanis Club of Edmond, during the May 15th Santa Fe Senior Awards Ceremony.
Salas was honored by Character Council President Jim Hulsey and Vice President Diane Krakowski for demonstrating the character trait of determination; purposing to accomplish right goals at the right time, regardless of the opposition. In her application, Ms.Salas wrote, "I believe in the power of self-motivation and its affect on one's life. Although not perfect, I am proud of myself. My accomplishments are the product of a great character: determination."
Patricia Salas has the distinction of being the first student to receive this inaugural Senior Scholarship. Future plans are to make the scholarship application available to seniors from all the Edmond high schools. Toward that goal, the Character Council of Edmond gladly accepts tax-exempt donations to fund the senior scholarships. Please send your contributions to: Character Council of Edmond, P.O. Box 392, Edmond, OK 73083-0392.


Archive
---
September, 2015
December, 2014
December, 2014
October, 2014
April, 2014
November, 2012
December, 2008
April, 2008
February, 2007
August, 2006
October, 2005
August, 2005
August, 2005
June, 2010
October, 2004