Former Arkansas Governor and presidential candidate Mike Huckabee recognized for his endurance.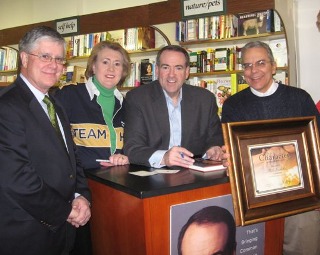 Mayor O'Neil, Janet & Mike Huckabee, and Gerald Coury
During a recent (22 November, 2008) book tour visit to Best of Books in Edmond to promote his latest book, "Do the right thing," former Arkansas Governor and presidential candidate Mike Huckabee was presented a character certificate for the character quality of endurance, by Character Council of Edmond representative Gerald Coury and Edmond Mayor Dan O'Neil. Coury presented the former governor with the character certificate noting that Huckabee demonstrated this quality "... from his days as governor of Arkansas, through his campaign for president, and now with his own television show and book tour."
Coury also noted that when someone stands for proven principles, like Huckabee, that there will always be opposition and stress, adding that Governor Huckabee endured and is a good example for all of us to follow, to "Do the right thing."
Huckabee responded that this was an excellent quality to recognize him for, as he was in the process of traveling to fifty-six cities to complete the book tour. He sincerely appreciated the warm welcome and recognition, and said that he "loved the City of Edmond," as he would not have had this type of response even from his home town.
Sources at Edmond's Best of Books said that the response to Huckabee's visit was "overwhelming;" that over 500 people attended, and to date they've sold nearly 900 copies of Huckabee's new book.