Hartzog steps off Character Board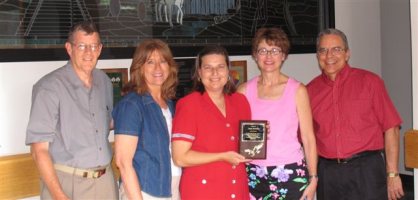 Members of the Character Council of Edmond, President Jim Hulsey, Diane Krakowski, Carol Hartzog, Terry Byers and Gerald Coury, presented Carol Hartzog with a presentation plaque in appreciation for the five years of service Hartzog had dedicated to the Council, following Monday's City Council Meeting. Hartzog recently stepped down from her position as media committee chair on the board.
A special acknowledgement and plaque was presented to Carol Hartzog, following Monday's City Council Meeting, by the Character Council of Edmond, honoring her for her five years of passion, dedication and service as both co-chairman and media committee chair on the Council's Board of Directors.
"All organizations need a change to grow, as do people," said Hartzog, for her reason to step off as a member of the council's board. However, she still believes in the Council's mission.
"Take heart," added Hartzog. "For the business and educational world, the Character Council's mission and message is so vital. I believe in that, and will continue to support the organization in its mission."
Hartzog attended her first character council meeting in August 2000, bringing her community relation skills, business and media contacts into play. At the time, the council was still in its infancy, a new grassroots organization dedicated to promoting good character traits to the Edmond community. Since that early conception, the council has evolved; it became incorporated and received its 501c3 credibility, and receives support from the City of Edmond Social Agency Commission and from businesses and individuals throughout the community, which has thus far enabled the council of provide character training to over 60 teachers from most of the Edmond middle schools during the past two years.
Another visual impact Hartzog brought to the council and community attention are the periodic recognitions by the City Council and in the area newspapers of the "Champions of Character," which honor Edmond area residences for their good character.
"Carol's passion was infectious while she served on the Character board," said Council President Jim Hulsey. "She will be hard to replace, if that's even possible."
"We do take it very much to heart, like Carol said," replied Hulsey, "that what the council does 'is vital' in making Edmond a City of Character, one person at a time; one community at a time." The council intends on carrying on the good work and building on the solid foundation that Hartzog had helped to create, said Hulsey.